DEGREE
/✈︎
DEGREE
/✈︎
DEGREE
/✈︎
OFFICIAL BACHELOR'S DEGREE
international

entrepreneurial leadership & innovation
The Official European Bachelors' Degree in Entrepreneurial Leadership and Innovation (LEINN) is created to cope with one of the greatest challenges of today: educating for the needs of people, business and society of the 21st century.
To achieve this, LEINN bases its educational strategy on a radical change in the methodology of university studies and uses a system that has been developed successfully in Finland during the past 30 years by Team Academy (Tiimiakatemia, TA), in the Entrepreneurship Center of excellence of the JAMK University of Applied Sciences in Jyväskylä, Finland. In Spain, the University of Mondragon has applied and expanded this methodology for the last 15 years.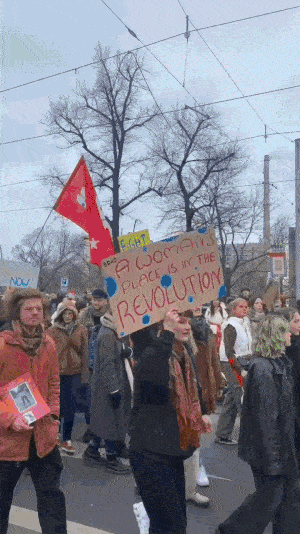 DOWNLOAD OUR STUDY PLAN AND GET YOUR BOARDING PASS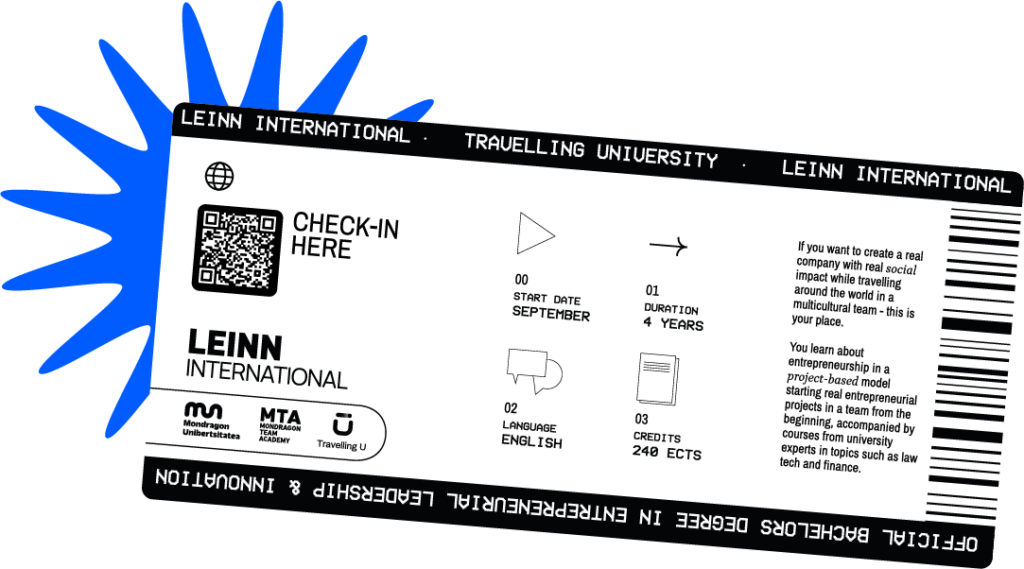 LEINN program is based on three key pillars: learning by doing, team entrepreneurship and a whole year international stays. LEINN International is a four-year-challenge of intense dynamic and exciting work, where you will learn entrepreneurship, leadership and teamwork by creating your own company with a multicultural team and having life-changing experiences all around the world. People who embark on this journey become world citizens with a global vision and with the ability to translate this knowledge into projects that can change their environment for good, team entrepreneurs with strong social values who understand the company as an instrument to transform society.
APPLY NOW
/✈︎
APPLY NOW
/✈︎
APPLY NOW
/✈︎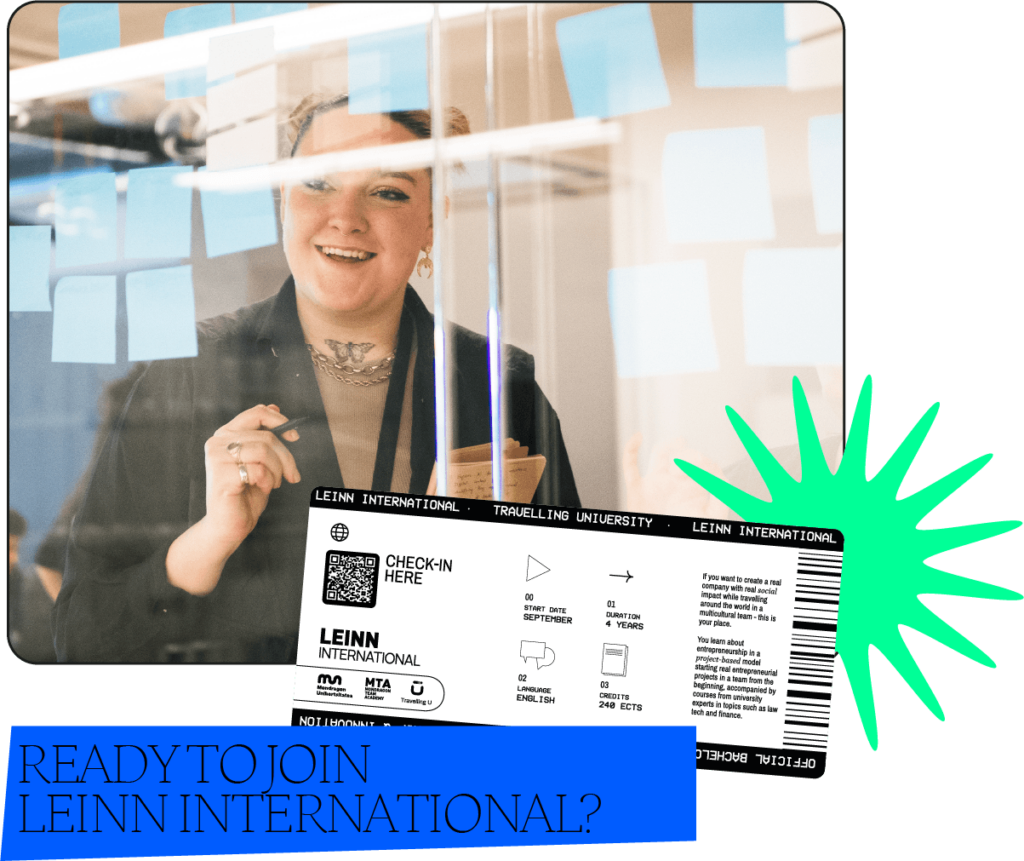 LEINN Internationals' application and admission process is a merit driven process based on interviews and small challenges. The application process is normally taken forward in online format, and may be complemented by a face to face interview in case we have our labs close to your location.
The tuition fee is €10.375 per year including flights. This means we take you to the destination of your studies and back to your hometown when the academic year ends.
We have created an estimation of the costs of studying in LEINN International, taking into account the tuition fee, living costs, accommodation, visa and insurance.
TUITION FEE
The tuition fees for each year cost €10.375 which includes tuition and one return long-haul flight.
INSURANCE
VISA
From 0-200€ per year, depending on your country of origin.
ACCOMODATION
Around 350€-400€ per month.
living expenses
*SCHOLARSHIPS
There is a limited amount of scholarships granted yearly. Once you have been accepted to the degree you can apply for scholarship.

Get your boarding pass
Do you want to travel the world and create your global startup while getting a bachelor's degree?
BILBAO // BERLIN // SEOUL
© LEINN International 2023