Entrepreneurial Leadership & Innovation
LEINN International  is a four-year program that happens in a different city each academic year (Bilbao, Berlin, Seoul). You will learn by creating real entrepreneurial companies in multicultural teams and have a life changing experience.
Join the Official Bachelor's Degree accredited by Mondragon University. 
BILBAO
/✈︎
BERLIN
/✈︎
SEOUL
/✈︎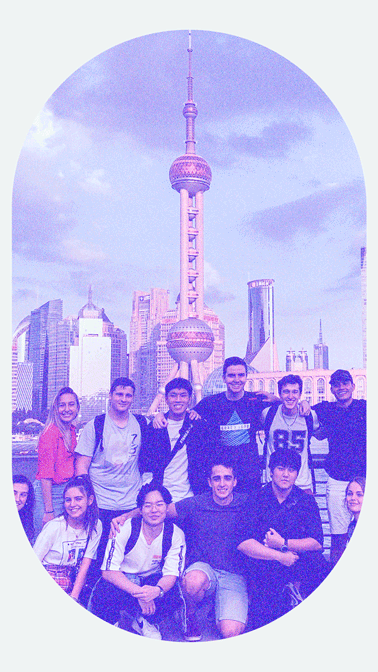 4 years, 4 cities, infinite learnings
The Official European Bachelor's Degree in Entrepreneurial Leadership and Innovation, in the international format, LEINN International, is powered by Travelling U and accredited by Mondragon University.
LEINN International is a four-year challenge that happens in a different city each academic year, full of intense and exciting work. A journey to become a world citizen with a global vision and the ability to translate this knowledge into projects that can combat the greatest challenges of our time, transforming the world for good.
Thanks to this context, LEINN International consolidates itself as the only LEINN pathway that is conducted 100% in English and in multicultural teams, thus helping the creation of socially conscious companies with a global outlook.
DOWNLOAD OUR STUDY PLAN AND GET YOUR BOARDING PASS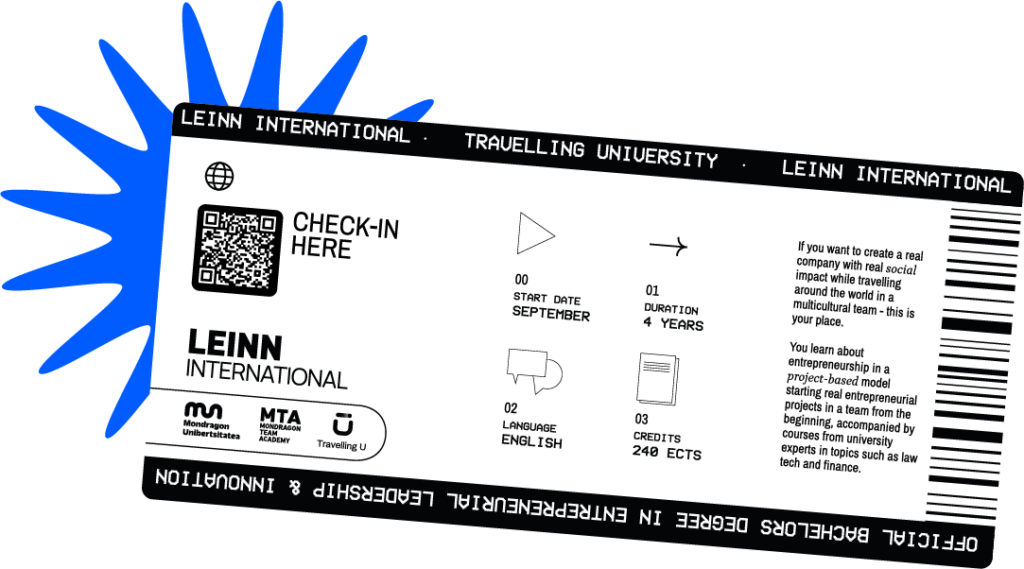 THE WORLD
4TH YEAR
At this point, the time will have arrived to choose, first of all the Final Degree Project that the Team Entrepreneur will embark on, and secondly the destination.
BILBAO
//
BERLIN
//
SEOUL
//
BENEFITS
/
BENEFITS
/
BENEFITS
/
01
DIVERSE TEAMS
Learn and live with people from different cultures. Experience real diversity that will change your state of mind.
02
More than travelling
Live, learn and immerse yourself in 4 different cities. Each academic year the cohort travels together to a new destination.
03
Business for real
Create a startup and develop real projects in teams. Learn, develop and know yourself.
04
international network
Be part of an international network of team-entrepreneurs present in more than 15 locations.
05
Aim for positive impact
We believe in entrepreneurship as a tool to gently shift the world for better.

Get your boarding pass
Do you want to travel the world and create your global startup while getting a barchelor's degree?
BILBAO // BERLIN // SEOUL
© LEINN International 2023